​
Hola beautiful Reader !
i'm popping into your inbox today to share with you some beautiful news 📰 we've been creatively swimming in behind-the-scenes!
One of the key beliefs here at WOKE MAGIC is that transformational tools (like magic, manifesting, and medicine work) should be accessible to all.
However, another key belief is that, as artists, creatives, magic-makers, and healers, we also should get paid for our art, medicine, and work.
Each brings an important but seemingly opposing energy element to the conversation. So how do we rectify the two?
We build a bridge, by being the bridge.
WOKE MAGIC was birthed to be a bridge between many things. And in this case, WM is a bridge between accessibility + magic. And i'm so excited to share one way we here at WOKE MAGIC have envisioned, embodied, and emboldened this bridge.
​
It's called Witchflix. And it's a gateway to your medicine + magic while also being radically accessible to your pocketbook.
​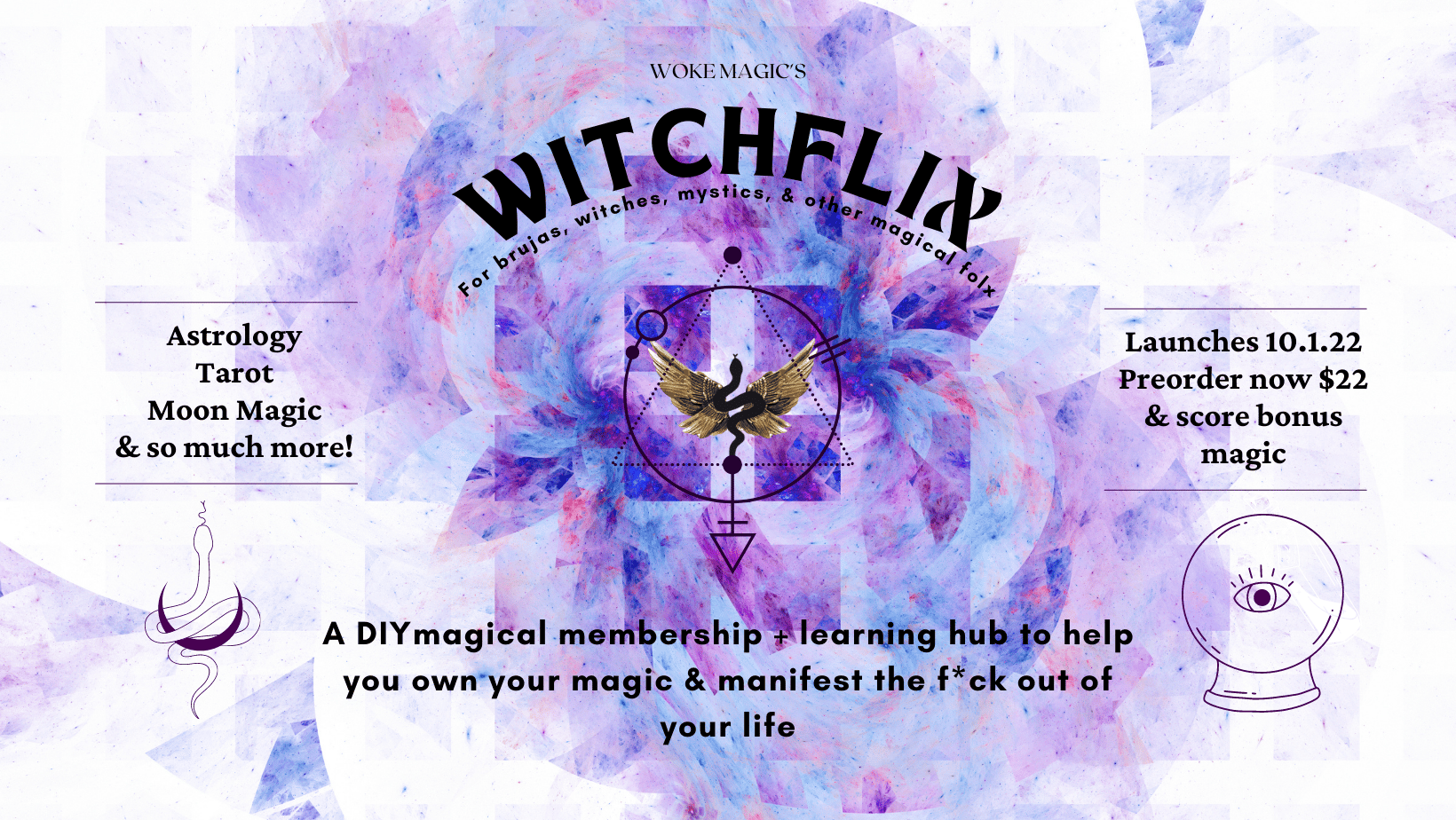 ​
Witchflix is...
Netflix for brujas, witches, mystics, and other magical folx.

A place where you show up to yourself, your medicine + magic, and have FUN!

A monthly membership that unlocks courses, classes, spellbooks, and guidebooks to help you live, be, and own your magic.

Your one-stop shop for all things medicine, magic, manifesting, and metaphysical. We envision it as library and archive of our life's work. Our own WOKE MAGIC virtual + public book of shadows.
And we want to invite you in at an exclusive prelaunch founders rate of $22 for 3 months! 🤯
This means starting October 1st (when Witchflix officially launches in the world) through December 31, 2022 you'll have access to an entire ever-growing library of magickal content like tarot + moon magick, manifesting your dreams courses, and writing your sacred tome spell + guidebooks! PLUS YOU'LL GET A SLEW OF MAGICAL BONUSES THAT ARE ONLY AVAILABLE TO PRELAUNCH FOLXS. (More on that here.)
But more importantly, when your 3-month membership ends, you'll have the opportunity to continue your monthly membership at the amazing founder rate of just $7 a month!
This is an opportunity to be a part of something deeply transformative and congruent--from its conception to creation to publication--from the ground up.
Because Witchflix is only going to get more delicious, more powerful, and more impactful from here.
Every legacy has a starting point, Witchflix is ours.
And we can't wait to further welcome you into it!
​
​
And because we are deeply devoted to supporting you on your magical journey, we are offering an even doper bonus for folxs who sign up for our prelaunch in the next 24 hours: a free 1-card ($99 value) personalized reading from me! 🔮🤯
How it works: After you purchase the prelaunch (TY 🙏🏽), i'll back in your inbox within 48 hours with your personalized card pull and audio reading! Each reading is a channeled, message reflection of the medicine your soul needs right now. This card will also serve as your guide throughout your time in Witchflix (more about that in the membership lounge!)
​
​
i'm so excited for you to experience all the magic we have in store for you. It's going to be EPIC! (Just like you!) 😍🔮
xo-b
P.S. Got questions about Witchflix? Hit reply to this email and i'll get back to you with some answers 🤗
​
​